Benefits Category
Financial, Insurance, Legal
Farm Bureau Bank
provided by
Farm Bureau Bank
"Farm Bureau members can save big utilizing the services offered through an exclusive program with nationally, recognized Farm Bureau Bank. Some of the benefits and savings for members include:
Deposit Services 
•    Interest-bearing Performance Checking
•    Money Market Accounts
•    Certificates of Deposit (CDs)
•    Individual Retirement Accounts (IRAs)
•    Health Savings Accounts (HSAs)
•    Free 24/7 Internet Banking
•    Free FBB mobile with Mobile Deposit
Consumer Cards 
•    Farm Bureau Member Rewards MasterCard® - the card that pays annual membership dues!
•    Farm Bureau Bank gift cards
Vehicle Loans 
•    Member-special rates for new and used vehicles, RVs, motorcycles, ATVs, personal watercraft and boats
•    Up to 100% financing and refinancing
•    Competitively priced protection plans
Business Services 
•    Premier Business Visa® credit card with rewards
•    Free account management online - anytime
•    Business Checking
Equipment Loans 
•    Finance or refinance new or used farm equipment
•    Flexible payment plans
Mortgage Loans 
•    Variety of mortgages with competitive rates
*See terms and conditions at farmbureaubank.com. Banking services are provided by Farm Bureau Bank, FSB. Farm Bureau, FB, and the FB National Logo are registered service marks owned by, and used by Farm Bureau Bank FSB under license from, the American Farm Bureau Federation."

Farm Bureau Financial Services
provided by
Farm Bureau Financial Services
Work with just one Farm Bureau agent and one company you can trust. Farm Bureau Member's Choice can help you protect your home, vehicles and other property with only one deductible per occurrence or accident, no matter how many covered possessions are involved. 
 
Business 
Whether your needs are related to a home-based business, business succession or retirement strategies, estate preservation or executive compensation, Farm Bureau has products and services to help protect you and your business now and in the future. Click here to learn more. 
 
Farmers 
You need to protect your crops, livestock and other commercial agriculture investments as well as your property, family and employees. Consider the value of one agent and one company you can trust for all your personal and business needs. Click here to learn more. 
 
Investments 
Taking responsibility for strengthening your financial portfolio is an important task, and generally involves more than simply establishing a savings account. To learn more about developing your own strategy for investing, Click here to learn more. 
 
Life's Events 
Life's events are often milestones that change your life. Some are joyous such as getting married, having a baby, starting a business or nearing retirement. Others are difficult such as caring for an elderly parent or losing a spouse. Consider what you need to financially protect the people who count on you. Click here to learn more. 
 
Personal 
With a variety of personal insurance products designed to protect your property, life, health and estate, look to your local Farm Bureau agent to simplify your life while making sure you have the coverage you need. Click here to learn more.  

Up to $500 Credit Towards Closing
provided by
Farm Bureau Mortgage
We are excited to introduce the newest Member Benefit, Farm Bureau® Mortgage! 
Farm Bureau Mortgage offers a wide range of purchase and refinancing options on residential properties. With personalized service and competitive pricing, Farm Bureau Mortgage is committed to being the mortgage provider of choice for Farm Bureau Members 
Apply today at www.farmbureau.mortgage or call  877.388.5354 to speak with a Loan Consultant. 
Farm Bureau Members Receive:
Up to $500 credit towards closing*
No Processing or underwriting fees
Dedicated Loan Consultant
Competitive Rates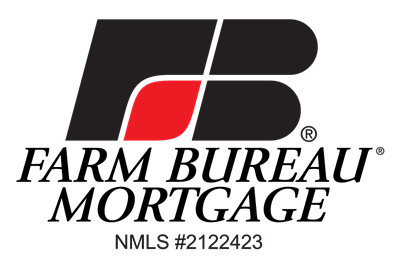 Farm Bureau Visa Credit Card
provided by
Farm Bureau Visa
Farm Bureau Visa Credit Card provides a card you can count on from an organization you believe in. No annual fee and a low fixed introductory interest rate.