NMF&LB establishes Cares Relief Fund for those affected by Winter Storm Goliath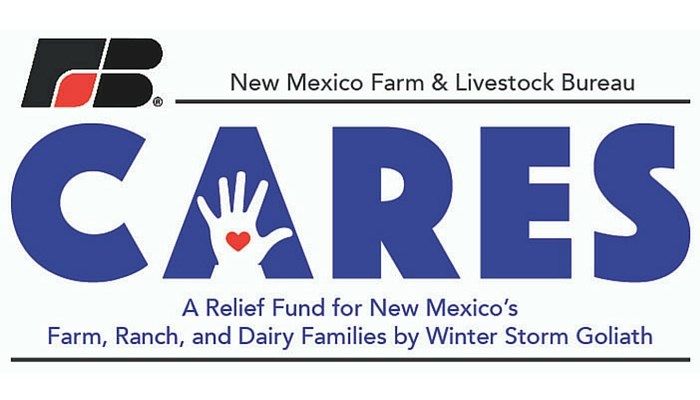 This was a difficult winter for New Mexico's farm, ranch and dairy families as a powerful storm caused death and devastation across the eastern portion of the state.  "Goliath" brought 80 mile an hour winds and 18 inches of snow the day after Christmas, affecting cattle, sheep and dairy herds. 
 "Agricultural families stick together and help one another out in difficult times," says Mike White, President of New Mexico Farm & Livestock Bureau. "There are families experiencing significant financial hardship as a result of the storm so we created a Cares fund."  New Mexico Farm & Livestock Bureau Cares offers monetary aid for agricultural families affected by the storm.  
 "Not only do farmers, ranchers and dairymen need to replace the animals that were lost to the storm, they also need to rebuild barns and fences that were demolished by the high winds," says Chad Smith, NMF&LB CEO.  "That makes it harder to pay for medical expenses or utility bills.  We just want these folks to know that we're there for them and we have resources to help."
 Individuals and county farm bureaus are contributing to the fund in an effort to support their neighbors.  Donations are tax-deductible and 100 percent of proceeds go directly to help families impacted by Goliath.  To support the Cares fund, checks can be made payable to NMF&LB and sent to 2220 N. Telshor, Las Cruces, NM  88011, attn.: Cares Relief Fund. 
 Agricultural families in need can download an application form here. Applications will be accepted until May 31st, monies will be distributed beginning June 1st.  
 New Mexico Farm & Livestock Bureau is a 19,000 member organization comprised of farmers and ranchers, and those who are interested in private property rights and a local food supply.   NMF&LB is the state's largest, private agricultural organization and was founded in 1917. For information about joining us please call 575-532-4703.