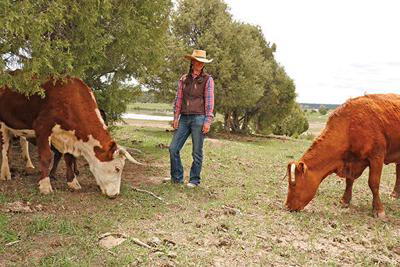 Legislation introduced to restore state provided meat inspections by state representatives Rebecca Dow, R-Grant, Hidalgo; Gail Armstrong, D-Bernalillo; G. Andrés Romero; D-Bernalillo, Jack Chatfield; R-Colfax, Curry and Antonio Maestas, D-Bernalillo would reinstate New Mexico's ability to its own inspection of meat processing plants in order to increase the amount of small to medium sized plants in New Mexico according to legislators.
    The Rio Arriba County Commission voted Jan. 26 to support House Bill 33 at its regular monthly meeting.
    In 2007 the state ceased doing its own inspections. All inspections have been handled by the Food Safety and Inspection Service of the Department of Agriculture.
    During the meeting, County Attorney Adan Trujillo said only four major companies process and pack cattle in the United States, and that by restoring the state's ability to do its own inspections, it will be easier for small meat processors to expand and new ones to open.
    Maestas is one of the legislators who authored the bill and said in a Jan. 26 phone interview that the goal of the legislation was to help strengthen and diversify New Mexico's economy.
    "We have a lack of meat inspectors, so we are not tapping into that market," Maestas said. "The steak you ate last night was probably processed in Texas, to build our economy we have to eke out our comparative advantages."
    Dow, one of the lead authors of the bill, said the underlying problems with the beef industry in New Mexico have been exacerbated by the COVID-19 pandemic.
    "Ninety percent of the beef that's grown in New Mexico is harvested outside the state," Dow said.
More
here